Slide 1
Acne Related
A case of typical teenager acne, who was frustrated and unsatisfied with his appearance that he would avoid going to college too. Since April 2014 was on treatment with Being Well Homoeopathy and till date has had no breakouts. He even has attending his classes so regularly that he even topped his class.
Slide 2
Abscess
Abscess: the most difficult one to heal without any scar or mark. Most of the time, the patient runs to the doctor and gets it cut and expelled. But with Being Well Homoeopathy, this patient did not have to use any instrument, only with the sweet pills, and in just seven days the finger healed without any scar. Homoeopathy as such is known from saving many people from unwanted surgeries. To know more about, contact doctors at Being Well Homoeopathy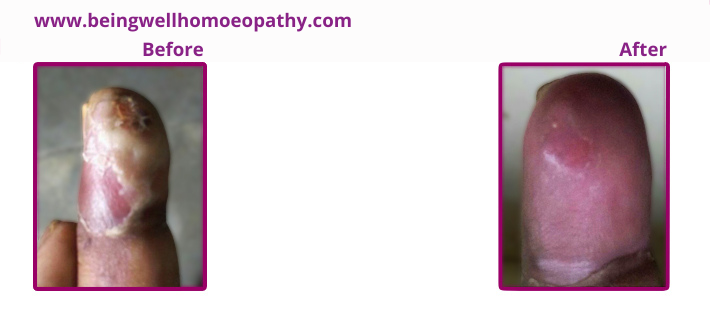 Slide 3
Eczema
Here you are seeing the picture of the very chronic disease, Eczema. This patient suffered almost for 3 years and then came to Being Well Homoeopathy to seek some help. And we doctors worked for him for almost 6 months to achieve the stage which is seen in the right side image. Chronic ailments like psoriasis, arthritis, do not only require disease based treatment, it requires a thorough case taking of the individual to reach the best remedy to treat him.
Slide 3
Tonsillitis
This is an image of 7 year old girl who came in this acute stage of inflamed tonsillitis. Itwas so sad that every time she went to a small birthday and had some wafers or soft drinks she would fall sick with high fever and bad tonsillitis. We just treated her for 3 months continuously and today even if she has a cup of ice cream or eats chips, she never ever complaints of any illness. Her mother says that because of Being Well Homoeopathy, her daughter was saved from undergoing a surgery to remove the tonsils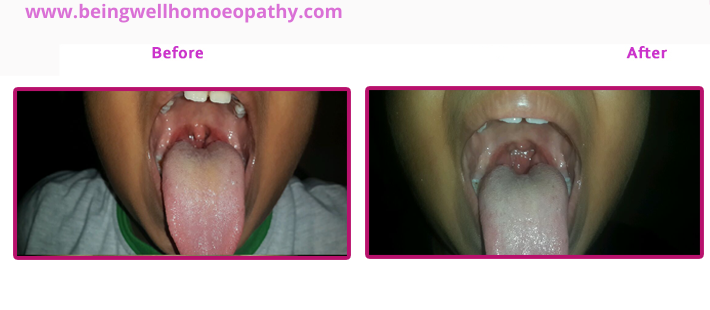 Slide 3
Hair-Fall
It is very common that everyone gets caught easily by the marketing advertisements of the products shown, especially the one which help in reducing hair fall or promote hair growth. Similarly, as the picture of the person seen on left, aged 28 years, suffered severe hair fall due to work stress, irregular eating and sleeping habits. He also tried and tested everything available in the market, products kept on shelf, advised by known people, but nothing helped. Finally, being a software engineer searched and approached Being Well Homeopathy doctors through www.beingwellhomoeopathy.com and in few months of regular medications was benefitted tremendously, as seen in the pictures. He still continues to be on treatment for further health benefits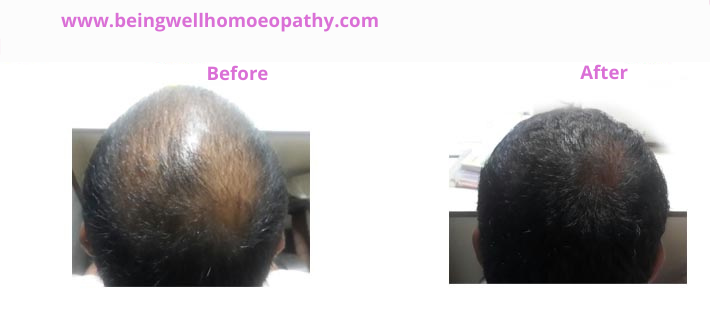 Slide 3
Cellulitis
We have been always heard the myth of slow healing in homeopathy. But this 1 Case will reveal the truth. In the before picture you can see the lower leg especially the ankle and foot of 58 year old man who suddenly got this cellulitis infection. The foot was extremely hot to touch and he also complained of extremely burning sensation. His leg was almost heavy like someone kept a stone on it. Just with few doses and within 24 hours is the result what one can see. He was nearly 75%better. This we prove here Homoeopathy is not slow.
Slide 3
Psoriasis
This picture is of a very dreaded condition, Psoriasis, where one just does not get help from any kind of treatment. Same way this patient also jumped from one doctor to another, but alls well that ends well, she approached us through beingwellhomoeopathy.com. And the right history, at the right time, helped the doctors at Being Well Homoeopathy to heal her.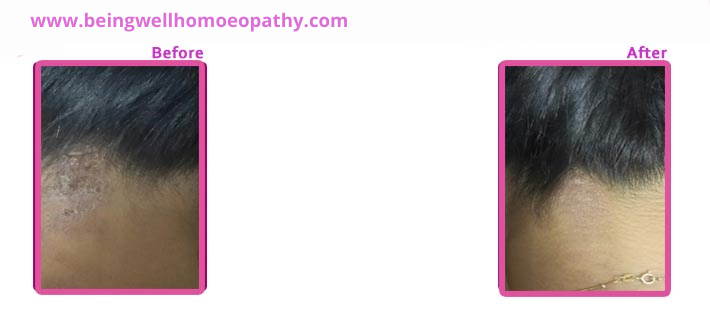 Slide 3
Kidneystone
A male patient through digital medium connected us for his complaint of Kidney stone.
After taking history and getting to know the root cause the right Homoeopathy medicines were couriered to him. Just after 10 days of the course, he replied back with this image.
Right time; right medicine and the right choice of Simple Homeopathy medicines helped him to relieve his problem.
Slide 3
Warts
A young boy aged 7 years, due to COVID, could not personally come to clinic. His mother shared this picture with us and we sent the homoeopathy medicines to them. The below picture is exactly after 3 days of medication. Thus even digitally also homoeopathy is not slow. Warts when treated with homoeopathy, nonsurgery needed and heals without any scar mark.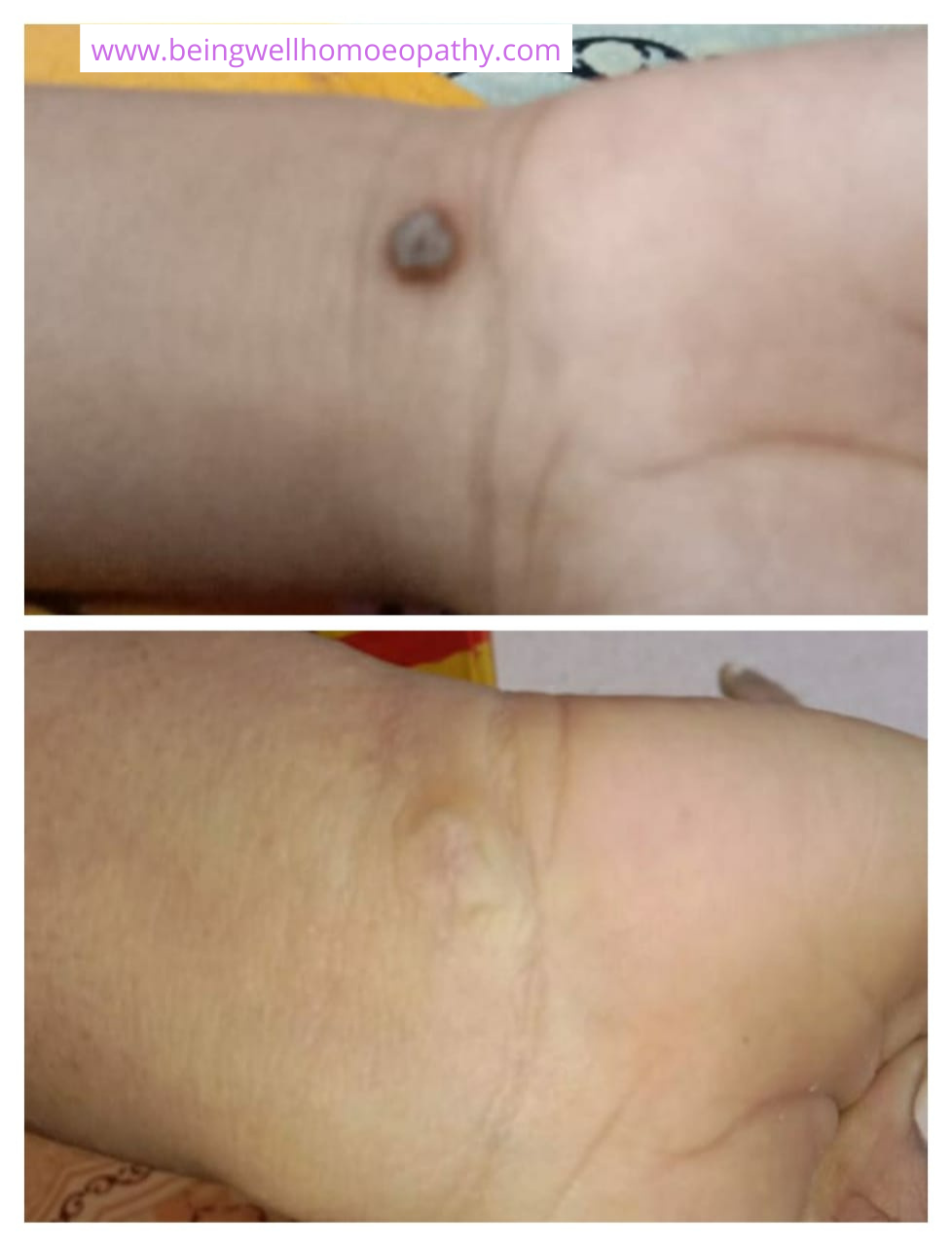 A case of Palmar Psoriasis
A case of Palmar Psoriasis
Male, aged 38 years, father of 2 children, one day connects to Being Well Homoeopathy and discusses that his skin of palms is peeling a lot. It used to happen to him in school days also. But that time it was on and off. He mentioned since almost 3 months it was not getting controlled. And peeling had become more severe as seen in the picture. When the case was taken, and hit the root cause of the disease, miracle like cure happened with regular 6 months of homoeopathy medicines. It has been over a year now and the complaints have not come again. For him the results of homoeopathy medicines with Being Well Homoeopathy has been promising. If you also want further details and want to consult write in to contact@beingwellhomoeopathy.com